Discover more from SoloCreator
Actionable Advice For Writers And Content Creators. I'll get you a sweet deal every once in a while. Subscribe & receive your FREE copy of my Creators' Toolbox ↓
Over 1,000 subscribers
Notion, Notion, Notion
#68 By Burk
What you'll get in this issue…
---
I talk about Notion all the time, but I tend to forget that many of you don't know what Notion is and how it works. I often get questions below my Notion posts.
This week's newsletter is dedicated to Notion.
---
#1 What's Notion?
Notion is an all-in-one productivity tool that can replace numerous apps, like notes, reminders, task lists, calendars, sheets, docs, project management tools, writing apps, and much more.
All in one tool, for free. It's in a class of its own.
Best of all: You can also make money in various ways with Notion, for example by
It's a whole universe of opportunities. And it's only going to grow.
Recently, Notion expanded to a handful of other languages (like German and French) and this will open up entirely new markets. There's a lot more to come!
But for now, let me show you how I use Notion. (I wrote this issue in Notion, as a side note)
---
#2 How I Set Up My Notion Home Page (Free Template Included)
I love Notion. Nothing new here.
What I used to do with 4–5 apps in the past, is now all done within this single powerhouse of an app. Notes, tasks, reminders, calendars, blog posts, and trackers for everything. I tweet about that all the time:
With this power comes complexity. That scares some people away from Notion. I know this because it happened to me when I first tried the app 3 years ago.
To overcome this, let's take a look at a simple home page you can create as a starting point in your Notion journey.
---
#3 New Free Notion Templates
I've recently released 4 new, simple Notion templates called "Goals 2023", "Link in bio", "Movie & TV Show Tracker" & "Writers' Hub".
The first is a basic goal tracker that lets you set & track your goals. It's the perfect beginner template for people who want to start learning Notion.
The second is a Linktree-like landing page for all your social links, directly in Notion and shareable from Notion.
Number 3 is as the name suggests a database for everything you watch and love.
And number 4 is my current work home page in Notion, turned into a generic template for you.
You'll find all of these and more templates in my online store here.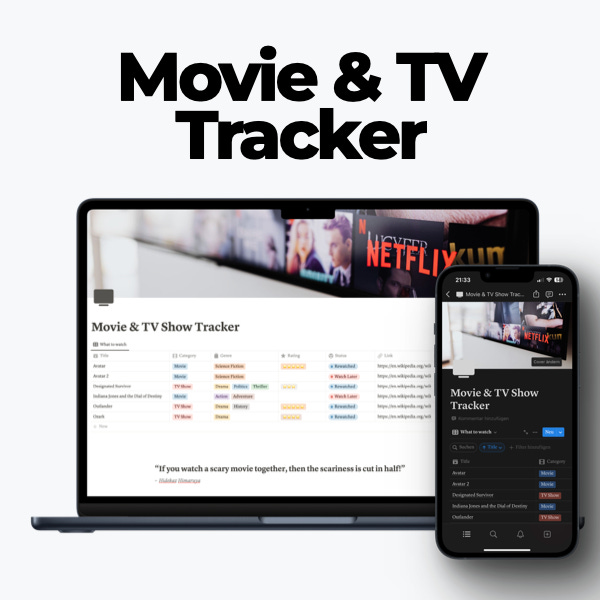 ---
#4 Best Notion resources
If you're keen on learning more about Notion, here are three of my favorite resources:
Thomas Frank Explains: A YouTube channel dedicated to Notion

Red Gregory: A YouTuber who shows Notion's potential in in-depth videos

If you want to learn how to sell Notion templates and make real money, here's a great course by someone who's doing it (*affiliate link)
---
Recommended Links
---
Related stuff